Take 3 & Company
Live Music For Your Event
Who We Are
Theresa Wallis, Jenny Nauta, Ron Nauta
Amazing vocal harmonies!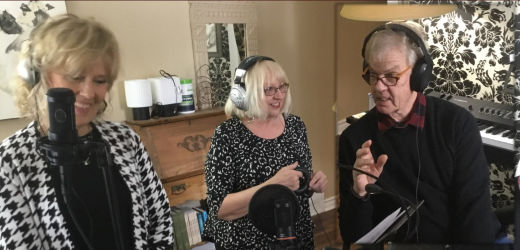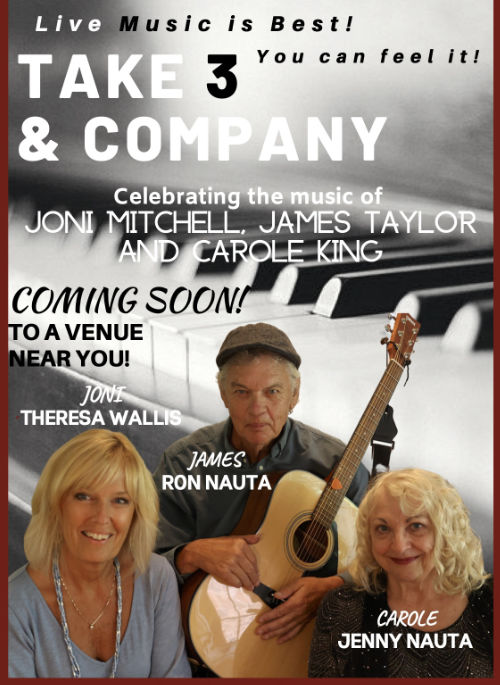 Ron's New Album
Formats:
- CD - $20 (free mailing/delivery in Canada)
- Digital - $15
To order:
- Email thenautas@gmail.com to share your shipping address (for the CD) or email address (for the digital files).
"About Time"
To pay:
- Send e-transfer to thenautas@gmail.com
- Or, send PayPal payment to thenautas@gmail.com
- Or, put cash or cheque in Ron's pocket!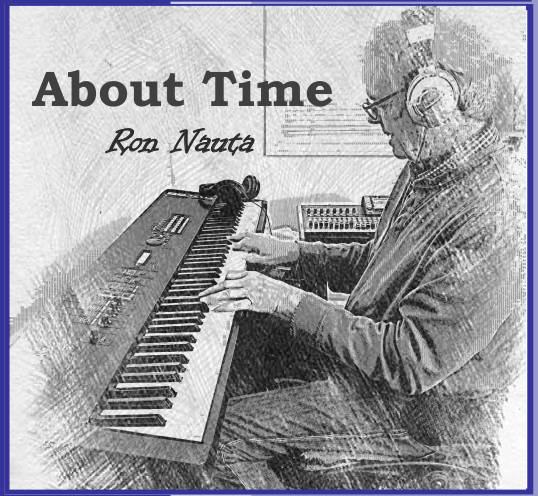 Many Thanks: These wonderful guest musicians have raised the level of my songs to a higher standard. Each of them, without fail, when invited to contribute, responded cheerfully and enthusiastically. They all devoted time and expertise in their interpretation and improvisation. I am forever grateful!
Ron
All other tracks by Ron Nauta: Bass, Drums, Percussion, Piano, Organ, Strings, Brass, Woodwinds, Marimba, Synthesizer. Vocals: Ron & Jenny
- About Time: Rob Thibert (Sax)
- The Conversation: Oliver Whitehead (Guitar) Rob Thibert (Sax)
- Treading Water: Rob Thibert (Sax)
- Flip Down the Line: Rob Thibert (Sax)
- Today as I Walk: Dave Dunlop (Trumpet/Flugel Horn)
- Take a Chance: Chris Norley (Guitar)
- Mayana: Jennifer Lee (Flute) Baby Maya & Baby Ana (Vocals)
- We Got to Go: Rob Thibert (Sax)
- It was Jamaica: Fred Blumas (Guitar) Theresa Wallis (Vocal)
- Funk 51: Dave Dunlop (Trumpet/Flugel Horn) Rob Thibert (Sax)
- The Food Song: Oliver Whitehead (Guitar) Theresa Wallis (Vocal)
- Perfect Day: Chris Norley (Guitar) Rob Thibert (Sax)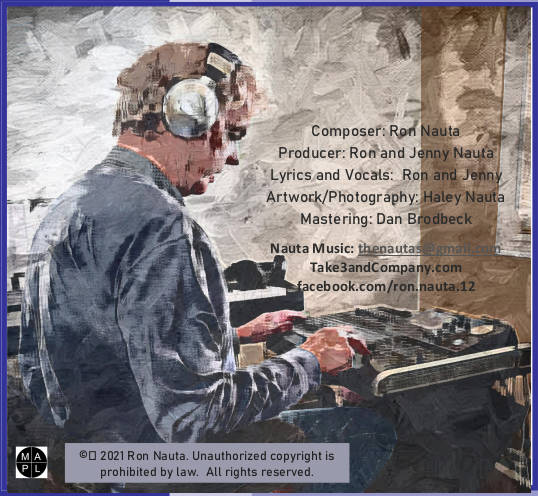 Ron's Comments
1. About Time - The tremendous spirit of volunteerism as I've observed for years. Also, a little backhand way of saying that while I have wanted to tackle this project for years, it simply took a pandemic to get at it!
2. The Conversation - A bittersweet tale of missed opportunity...and getting phone numbers!
3. Treading Water - This song had an unusual genesis after a few conversations with a friend discussing an organization that he belongs to, Retrouvaille, whose purpose is to help restore struggling marriages.
4. Flip Down the Line - Initially written as an instrumental for the group Parallax, but Jenny saw a lyrical opportunity to talk about choosing the road less travelled.
5. Today as I Walk - Random thoughts of concern and hope for future sustainability
on a planet where more such thoughts should occur.
6. Babe - An homage to a dear friend who passed away recently, and to her amazing family.
7. Take a Chance - A retrospective of an early "growth opportunity" incident in my life.
8. Mayana - Composed initially as another instrumental for Parallax, Jenny adapted
the melody and incorporated lyrics to express our joy for identical twin grandbabies born into the family. Some vocal improvisation by Baby Ana and Baby Maya.
9. We Got to Go - A walk along the path of just such a relationship that is about to fracture, and possibly wisely.
10. It Was Jamaica - A fantasy about a getaway, written in the dead of a northern winter.
11. Funk 51 - Another instrumental written for Parallax a few years ago.
12. The Food Song - A song about a subject near and dear to my heart… and stomach!
13. Perfect Day - Written on a day when, for no reason, I was struck by the beauty and wonder of a 24-hour day-in-the-life.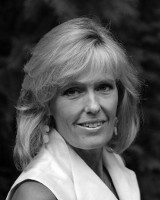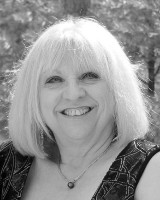 The girls sing Sergio Mendes
The magic of Latin jazz with the beautiful rhythm of the Bossa Nova.
Sergio's tunes hit the American pop charts starting in the 60s with Brasil 66, then '77 and on and on.
Including Favourites Like These...
Mas Que Nada
The Look Of Love
Dock of the Bay
One Note Samba/Spanish Flea
Fool On The Hill
Going Out Of My Head
Watch What Happens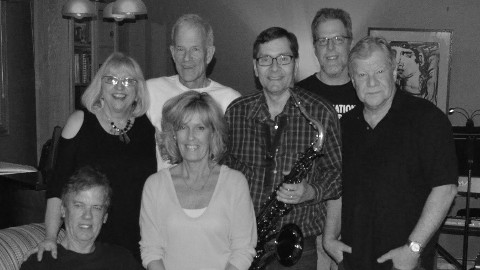 A Group Of Seven
A fusion group blending two of London's finest jazz ensembles with combined arrangements for vocals and instruments featuring the smooth jazz sound of PARALLAX with the rich harmonic vocals of multi-award-winning AFTER FOUR vocal jazz group.
Members
Ron Nauta, Jenny Nauta, Theresa Wallis, Larry Ernewein, Rob Thibert, Chris Norley & John Knapp
Set List Includes
Steely Dan/Donald Fagan
Swingin' Latin
Greatest Hits (Sun Goes By, Turn Your Love Around, What a Fool Believes, Inside and Out...many more)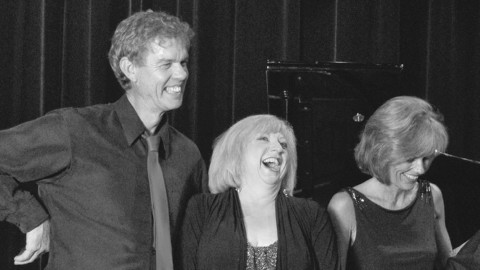 A Salute To Burt Bacharach
Burt Bacharach is an American composer, songwriter, record producer, pianist, and singer who has composed hundreds of popular hit songs from the late 1950s through the 1980s, many in collaboration with popular lyricist Hal David.
Featuring...
Jenny Nauta, Theresa Wallis & Ron Nauta (Musical Director)
Set List Includes...
Walk On By, You'll Never Get To Heaven, Alfie, One Less Bell To Answer, I'll Never Fall In Love Again & many more!
Contact Us
Take 3 & Company can fit your venue and event needs. Take 1...Take 2...Take 3...and more! From one person tinkling the ivories (or a duet, trio or quartet) to a full stage show of singers and instrumentalists. Home concerts, theatres, fundraisers, concert series, church events, conventions - you let us know!
Please contact Jenny Nauta: thenautas@gmail.com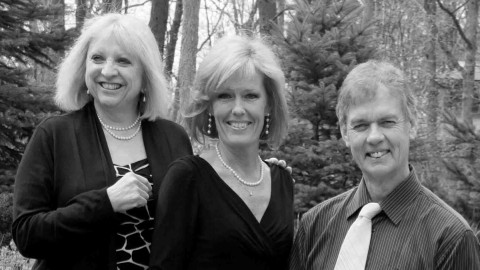 Other Programs
Motown and More - Hits from the past featuring Supremes, Michael Jackson, Stevie Wonder, Aretha Franklin
Get Down and Boogie - Great tunes from the 70s and 80s, Earth Wind and Fire, Michael McDonald, Hall & Oates
The Golden Era - Hits from the great era of popular hits of Frank Sinatra, Nat King Cole, Tony Bennet, Barbra Streisand... Moonglow, Lullaby of Birdland, Blue Skies, etc.
The Holly and the Ivy - A Seasonal Concert with some Swingin' and Traditional Tunes
Swingin' Jazz Standards - A big book of favourite pop/jazz tunes through the years
Past Performances
Aeolian Performing Arts Centre
Huron Country Playhouse
Winnipeg Choral Festival
Texas-Fort Worth Yacht Club
Victoria Playhouse
Hensall Opera House Fundraiser
Grand Theatre- McManus Stage
Centennial Hall
Bayfield Summer Series
International Symphony Orchestra Fundraiser
Wolf Performance Hall
London Convention Centre
Ingersoll Theatre
Quai du vin Winery
Pembroke Rotary Club
London Pro Musica Choir
Karen Schuessler Singers
McCormick Foundation
London Convention Centre
Mississauga Conference Centre
Many churches, private fundraisers and functions.